Franchise
Many consecutive years on Entrepreneur Magazine's Franchise 500® list as a top tile, grout, stone, and wood restoration company.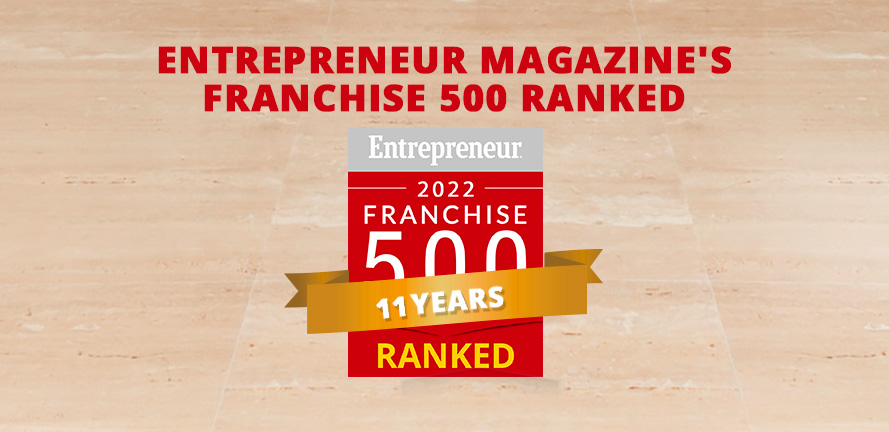 Sir Grout has ranked as one of the Top Franchises on Entrepreneur's Franchise 500® List for over a decade, including a spot on the 2022 ranking. The annual Franchise 500® ranking recognizes companies that are poised for growth. To be a part of the top 500 franchises, your company must be:
Financially strong
Financially stable
Growing at a high rate
An independent CPA analyzed our data to determine if we made the cut. In the past seven years, Sir Grout has continued to rank on the list and strengthen the brand to benefit our franchisees.
With more tile surfaces being installed each year, the grout and tile restoration business has become a growing sector in today's home improvement industry. However, few companies have a unique and proven system that matches that of Sir Grout. Our proprietary products, application methods, and marketing program set us apart from our competitors.
Have you ever wanted to be your own boss?
Now, there is an opportunity to own your own grout franchise in a protected market. Learn to offer an incredible service that is in HUGE DEMAND!
Contact
us to learn more about owning your own Sir Grout Franchise, today!
All information contained in this website is provided for informational purposes only and nothing herein may be construed, deemed, interpreted or constituted to be an offer or the sale of a franchise.
For additional information about owning a Sir Grout Franchise, click the links below: